Welcome to my blog site to keep you up to date with all that is going on with me and the athletes that I am involved with whether through my coaching activities at Guernsey Athletics Club or through the collective of triathletes I coach and train with. Track352 Racing is a collective of all of those athletes
So who am I ? My name is Alan Rowe and I grew up in Sussex, England. I have been a life long athlete following in the footsteps of my elder brother who joined the local athletics club. As a teenager I lived through the golden era of British middle distance runners – Coe, Ovett, Cram, Moorcroft – the list could go on. We'd often see Steve Ovett lining up at local races in what was an inspirational time to be growing up as an athlete.
I enjoyed early success at cross country and track and continued to race and train as a committed athlete through University and beyond. My Track352 handle comes from my 1500mtrs personal best time of 3 minutes 52.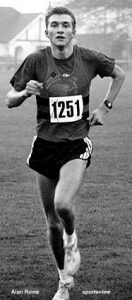 My university cross country running buddy Julian Jenkinson introduced me to triathlon in the mid 1990's. He found he was much better at riding a bike than running and soon rose to be the UK's leading long distance triathlete setting the British IronMan record in 1995 of 8hrs 15mins that stood until 2008. Sadly he passed away in 2017.
Initially I began cross training with swimming and biking, particularly when suffering a running injury. After moving to Guernsey in 1993 I dabbled initially with Duathlon, starting with PowerMan Guernsey in 1997 and moving on to become World Age Group Champion twice in 2001 & 2002 followed with a runner up spot in 2003. A GB elite place just eluded me, but as I gradually turned increasingly to triathlon so I was to reach a pinnacle at the grand old age of 40 by representing Guernsey at the 2006 Commonwealth Games in Melbourne, Australia.
Between times I have been coaching runners, duathletes, and triathletes from junior middle distance runners through to 2:30 marathon runners and sub 10 hour IronMan.
Now in my 50's I continue to get a buzz from competing and don't intend to stop anytime soon.
Presently the roster for individually coached athletes is full.